Nowadays, remarketing is getting more popular in the e-commerce sector and for good reasons too. It is fast becoming the best way to generate leads from traffic to your site.
Targeted ads are the traditional way of advertising for most e-commerce websites. However, the click-through rates and conversion rates on the adverts are a challenge for every online shop. This, coupled with the increasing cost of ads limits the conversion of many online stores.
"

Very often, people would visit a store, browse through for a particular product and even go as far as adding it to their cart but make no purchase at the end. This is where remarketing steps in as a solution.

"
Definition
The simple idea behind remarketing is 'specific targeting'. This approach helps you track visitors to your site and then direct specific ads to them. The biggest advantage remarketing has over marketing is that it pays attention to your engaged audience. Since these people are already familiar with your products or services, it becomes much easier to convert them into leads.
While most sites have a lead generation rate of just 1-2% from the entire traffic, remarketing has the potential to increase this percentage by up to 16%. It should be noted that this method is not an alternative to your current marketing strategy but an integral part of it. It helps you retain and recover the customers that your marketing campaign has brought in and even convert them to leads.
How does it work?
Remarketing works by placing cookies on a visitor's web browser.  That cookie can then be used by a digital marketer to target the visitor through paid searches or ads. Every visitor to a site can be tracked and retargeted using remarketing.
The more pages users visit, the more information can be gathered about them. For instance, if a user visits a product page and then the "add to cart" page, it can easily be inferred that he or she is very interested in the product. This information can be used during the remarketing phase. Adverts of that same product can be targeted towards the user until they make a purchase.
Google offers a function known as 'Custom Combinations'. They allow for visitors to your site to be grouped into two broad categories. For instance, in the example given above, the customer has shown interest in your product and is therefore more likely to convert. This makes them a more valuable prospect for a targeted ad when compared to another visitor who just visited and then bounced off your site.
Advantages
Remarketing is a much-needed addition to every digital marketer's campaign because of its numerous advantages. Here are some of the pros of this method:
It helps nurture prospects: retargeting can help you prime your site's users for a purchase. Usually, when people visit your website for the first time (especially from paid traffic), they are not ready to buy. Retargeting helps your product stay on their minds till they are finally ready to make a purchase.

It can help build brand awareness: ensuring that your brand stays in the mind of potential customers and helps you ensure that when they need a product you have, you are one of the first names that pop into their heads.
Types of remarketing
There are four basic types of remarketing.
Search: targets users who visit your site and return to search engines.

Display: helps you engage with people who have accessed your website or app before

Video: targets viewers that have viewed a video on youtube

Social: platforms like Facebook allow you to target users that have previously visited your website
How to use remarketing?
Although it seems like a really complicated process, remarketing is really easy to do. You just need to generate a custom tracking code to add to your website. This tracking code can be generated in Google Analytics and AdWords by doing the following:
Go to the 'Admin' section of your account and click on 'Remarketing Lists'

Click on 'New Remarketing Lists' at the top left of your page

Proceed to name your list and connect your AdWords account

Choose the type of remarketing you want

Once you are done, you will receive a modification to add to your Google analytics.

Add the modification to every page on your site

Agree to Google Analytics and Google Analytics for Display Advertisers Terms and Conditions

Update your site's privacy policy to inform users of your use of remarketing
How to generate better leads?
The end goal of every marketing campaign is to generate highly qualified leads. Not only do you want to capture leads but you also want to convert those leads into customers.
Here are a few things to keep in mind when generating leads for your remarketing campaign:
Tag the right pages: cookies work based on the pages you tag. So tagging the right landing page is crucial to generating great leads. You can tag your top landing pages and your best seller pages to immediately generate strong leads.

Segment your campaign: different remarketing campaigns are required for different customers. Identify the stage the customer is at and determine the right approach to use to advertise to them.

Spend more time and money on abandoned purchases and non-empaty shopping carts, they are much easier to convert into sales.

Entice product page viewers and recurring visitors with coupons and discounts.
Before embarking on your new remarketing campaign, you should know that its purpose will determine the length of the cookie you use. Its standard lifetime is 30 days but with Google, you can extend to over a year. This comes in handy if your product has a long buying cycle or if you are targeting a customer of a product that has a long shelf life.  
Also keep in mind that if your remarketing campaign is too aggressive, it can be a turn off for users. This can result in them clearing your cookies, effectively ending your campaign with them. A solid piece of advice is setting your campaign to only a few impressions a day. Just enough to keep your product in the minds of your users and not becoming overbearing.
Guest blogger Ellan Dinnen from Design Wizard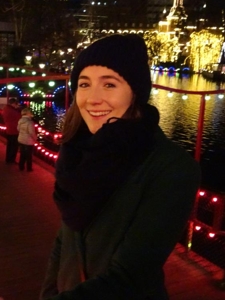 Ellan Dineen is the Marketing Associate at Design Wizard. When she's not hard at work in the Marketing Department, Ellan can be found en route to foreign lands with a book in her hand and a podcast in her ear. With a Master's in English and Diploma in Social Media Marketing, she knows the importance of staying up-to-date with the industry's latest trends and insights and is keen to pass these tips on to her readers.

Design Wizard is an online graphic design software that helps you create high-quality images in minutes. Their intuitive and easy-to-use interface lets you quickly whip up graphic images for marketing campaigns, social media ads, invitations, business cards, flyers, and so much more! With a library of 25,000 image templates and 1M+ premium images, Design Wizard has everything you need to tackle any online or print project.